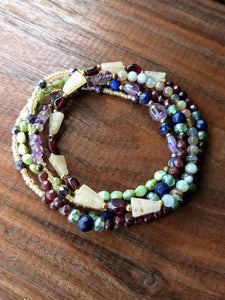 The Mediterranean
Regular price $80.00 $70.00 Sale
Envision delicious Merlot Garnet and dusty grape Amethyst, salty sea foam green Czech glass, deep oceanic Lapis Lazuli, fresh blossom Peach Quartz, and unique terrain being captured on each Botswana Agate stone. 

We used rich, decadent, hand cut and faceted stones and an assortment of Czech glass to birth this precious adornment. 

We suggest using the option to zoom in on these photos. You will see veins of golden Pyrite in our faceted Lapis, and many more beautiful stone details.

Strung on 49 strand softest drape professional jeweler wire, we solder our jump rings to ensure our jewelry will last for the years to come.

The Mediterranean measures at 40" and can be worn as a single necklace, a double wrap necklace, or a multi-wrap bracelet.