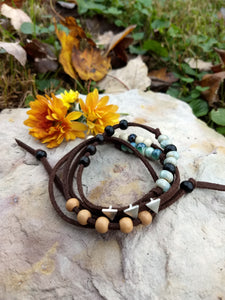 Micro Suede Tribal Wrap
Regular price $18.00 $18.00 Sale
This wrap was created to live in. Micro suede is comfortable and moisture resistant. If you are anything like us, you have that one comfortable piece that you absolutely live in. Well, this guy may take its place. 
We used a warm dark chocolate micro suede and strung an assortment of wooden, porcelain, and metal beads onto it. The splashes of bottle glass green, midnight blue, and frosty teal absolutely pop on this earthy wrap bracelet. 
We didn't knot all of the beads in place, so dependent on your wrist size, you can move some beads, with resistance, around to your liking. 
We designed the bracelet to comfortably fit 6.5" wrists
up to
Hulk size wrists. Don't worry. You'll get your wraps in. 
Measurements:
This bracelet is measured at approximately 36" in length. WOW. Yeah, we really wanted some serious wrapping.  We weren't kidding.