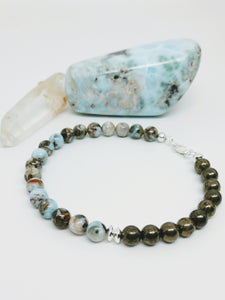 Rejuvenation and Protection Bracelet
Regular price $80.00 $50.00 Sale
This spectacular bracelet was designed with the intent to filter out negative energies, in all applicable aspects, and assist in rejuvenation, protection, and healing of the spirit.  This pandemic has caused us to become too plugged in to our phones, our television, and our computers. We're bombarded by negative energies from social media, the news, and the disheartened.
Now, more than ever, we need to cleanse and protect ourselves from the negatives; We need to rejuvenate our spirit.
Larimar is prized as one of the highest vibration stones, associated with the crown, 3rd eye, and throat chakra. This particular Larimar has Hematite dendrites.  Hematite is one of the most effective stones used for EMF protection. We took our protection another step further, and added glittering Pyrite to our design.  Pyrite is also considered to be incredibly protective against that toxic electromagnetic smog, and is also praised for its high healing properties. 
Hematite and Pyrite work together with Larimar to heal, protect, and strengthen your spirit, and also your chakras. Our powerhouse design is accented with real .925 silver components.
"With these stones, I stand grounded, clean, blessed, and protected."
Measurements:
Bracelet measures approximately 7.5" in length. Larimar measures approximately 6mm, Pyrite measures approximately 6mm. If you need a larger size, we will add a 1" .925 silver extension chain upon request.
These Larimar stones were mined by artisan miners in the Dominican Republic.
Although this Larimar is not a higher grade, due to Hematite, and Silica/Quartz inclusions, it is uniquely beautiful, and far more affordable than the higher graded inclusion free stones.  Our natural Larimar stones still have that beautiful blue, and high vibration energy you are looking for without breaking the bank.